Increase Infrastructure Project Profitability
Embrace Digitization to Overcome Challenges
Infrastructure project profitability and construction are at a crossroads, faced with a variety of current and emerging challenges. Compared to other industries that have effectively used technical innovations and digitization to develop and reinvent their goods and services, infrastructure projects have not yet embraced the full potential of new techniques and resources. Infrastructure generally remains low-tech with low automation levels when compared to other industries.
Digitization provides an opportunity to increase infrastructure project profitability by helping it overcome some of the industry challenges including a shortage of skilled talent, client expectations for partner autonomy, lack of collaboration caused by manual processes, health and safety quality challenges, and low productivity.
Shortage of Skilled Infrastructure Talent
According to a 2019 UN article, global population is expanding at a rapid rate and is estimated to reach 9.7 billion by 2050. This expansion is expected to lead to two thirds of the world population living in cities (as opposed to rural areas) by 2050.
To cater to the requirements of a growing, evolving, and increasingly demanding population, the infrastructure vertical is in desperate need of additional skilled workers. Unfortunately, infrastructure projects are already facing a skills shortage in many countries, which begs the question: how can infrastructure recruit new, highly skilled talent?
Continued investment in digitization and emerging technologies can help to solve the skill gap by transforming outdated perceptions of the infrastructure sector. An updated perception backed up by updated enterprise solutions will lead to more innovative, skilled employees who will continue to foster innovation and drive profitability.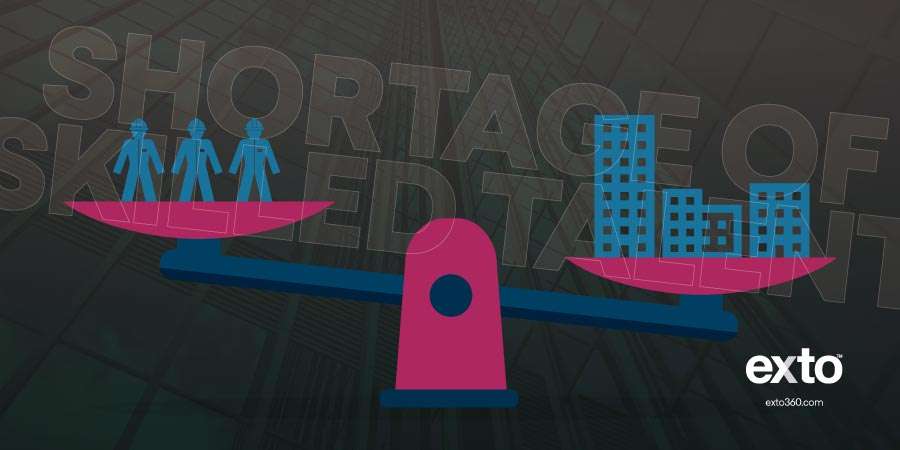 Client Expectations for Partner Autonomy
Clients still reasonably expect builders to exercise fiscal discipline, reduce infrastructure development costs where necessary, and improve project delivery timelines and safety.
Digitization of infrastructure projects enables project managers to enhance the design and construction process. Subsequently, lifecycle costs will be reduced via the long-term efficiency of of a digital project management information system (PMIS).
Lack of Infrastructure Project Collaboration
In some cases, the construction industry depends on paper for blueprints, concept sketches, project estimations, timeline management, and orders. The process of using paper documents can slow down progression and increase risk, for example, team members working from different iterations of the same paper plan.
By digitizing these processes and documents, real-time sharing of information combines all project elements to ensure that everyone involved has access to the most up-to-date, accurate information. The streamlined communication process surrounding these formerly manual, paper processes increases efficiency and profitability.
Health and Safety Quality Challenges
The ever-present need to improve health and safety parameters and provide high-quality infrastructure demands EPC project planning and management that is able to evolve and adopt new ideas.
New technology provides that opportunity to improve with increased precision and decreased human error through automation. For example, embedded sensor equipment progressively enables notifications to be sent to alert teams for maintenance or repair. In this example, the need for find-and-fix projects in hazardous environments is reduced, thus reducing health and safety risk and any associated schedule delays.
The infrastructure industry is currently facing an endemic of low profitability, often due to low project productivity.
A modern digital PMIS can increase efficiency and visibility across the project lifecycle, thereby giving project managers opportunities to address challenges in real time, and ultimately, increasing profitability.
Start Your Infrastructure Digital Transformation Journey Today
With the right software solution and implementation partner, infrastructure digital transformation will reduce or eliminate the challenges of a shortage of skilled talent, client expectations for partner autonomy, lack of collaboration caused by manual processes, health and safety quality challenges, and low productivity. Exto is an integrated technology and services platform with cloud-based project monitoring to turbocharge project execution and enhance productivity. Exto also provides services via trained project-monitoring engineers (PMEs) to help your company navigate the project journey.
Contact us today or review the brochure to learn how we can help you implement Exto to digitally transform your infrastructure enterprise.
Increase Infrastructure Project Profitability with Digitization