Manage all commissioning (Cx) checklists,
tasks, docs, and goals.
Leading tech company improved commissioning with Exto
Collaboration reduced employee downtime by 14%
Saved ~3 hours per week per employee by eliminating the need to search for, review, complete paper forms
Improved Cx visibility on all task, equipment, and project status
Improved design review, collaboration, and organization
Issue history observed during startup and Cx helps troubleshooting during operations
Watch the video to see how Exto streamlines commissioning
Configure, customize, and manage all commissioning processes
Exto enhances commissioning (Cx) communications and collaboration, automates project workflows, enables electronic document management, and monitors work progress in the field.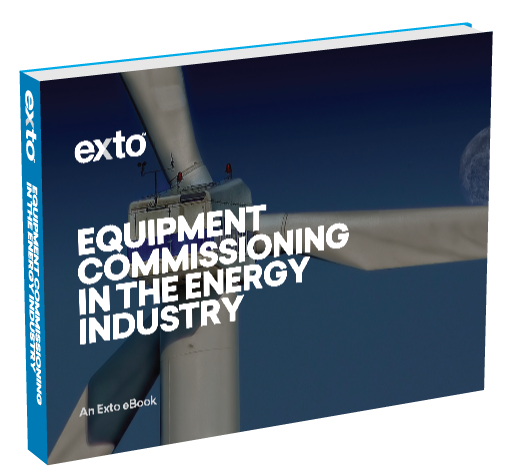 Download the Exto eBook, Equipment Commissioning in the Energy Industry and the Cx data sheet
Leverage Exto for multiple commissioning benefits
Doc review and search hours saved per week per employee
Collaboration can reduce employee downtime by up to
Improve design review, collaboration, and organization
Improve Cx governance and document control across teams
Reduce errors through fewer manual dependencies
Improve Cx visibility, equipment to commission
Increase equipment information modeling
Configure, plan, execute, analyze
Track each step in sophisticated Cx processes, ensuring that all systems and components are installed, tested, and operated according to requirements.
Configure sites, locations, buildings in Exto

Plan commissioning flows in Exto

Execute commissioning flows in Exto

Analyze the full commissioning and installation lifecycle in Exto

Exto simplifies work management